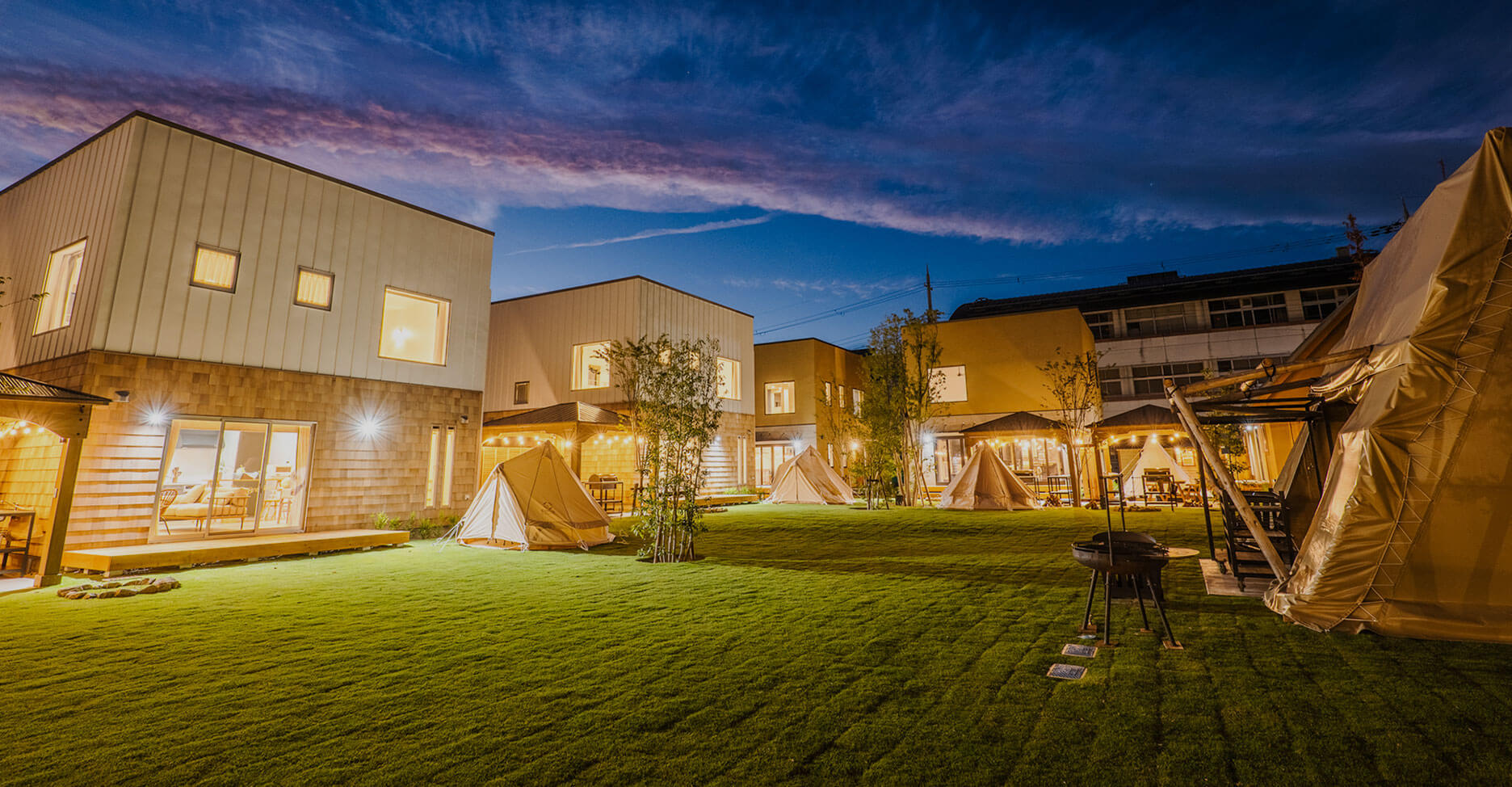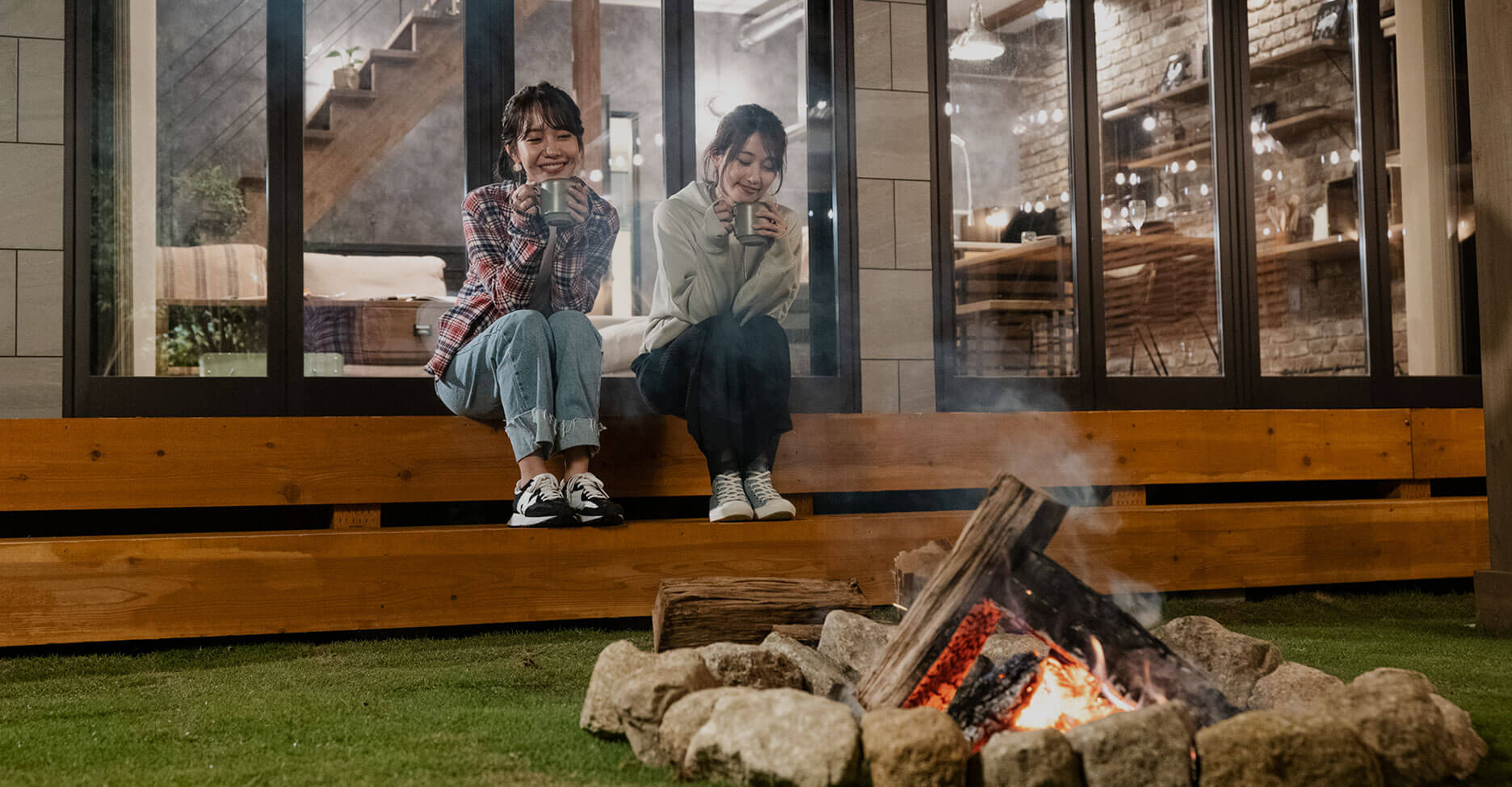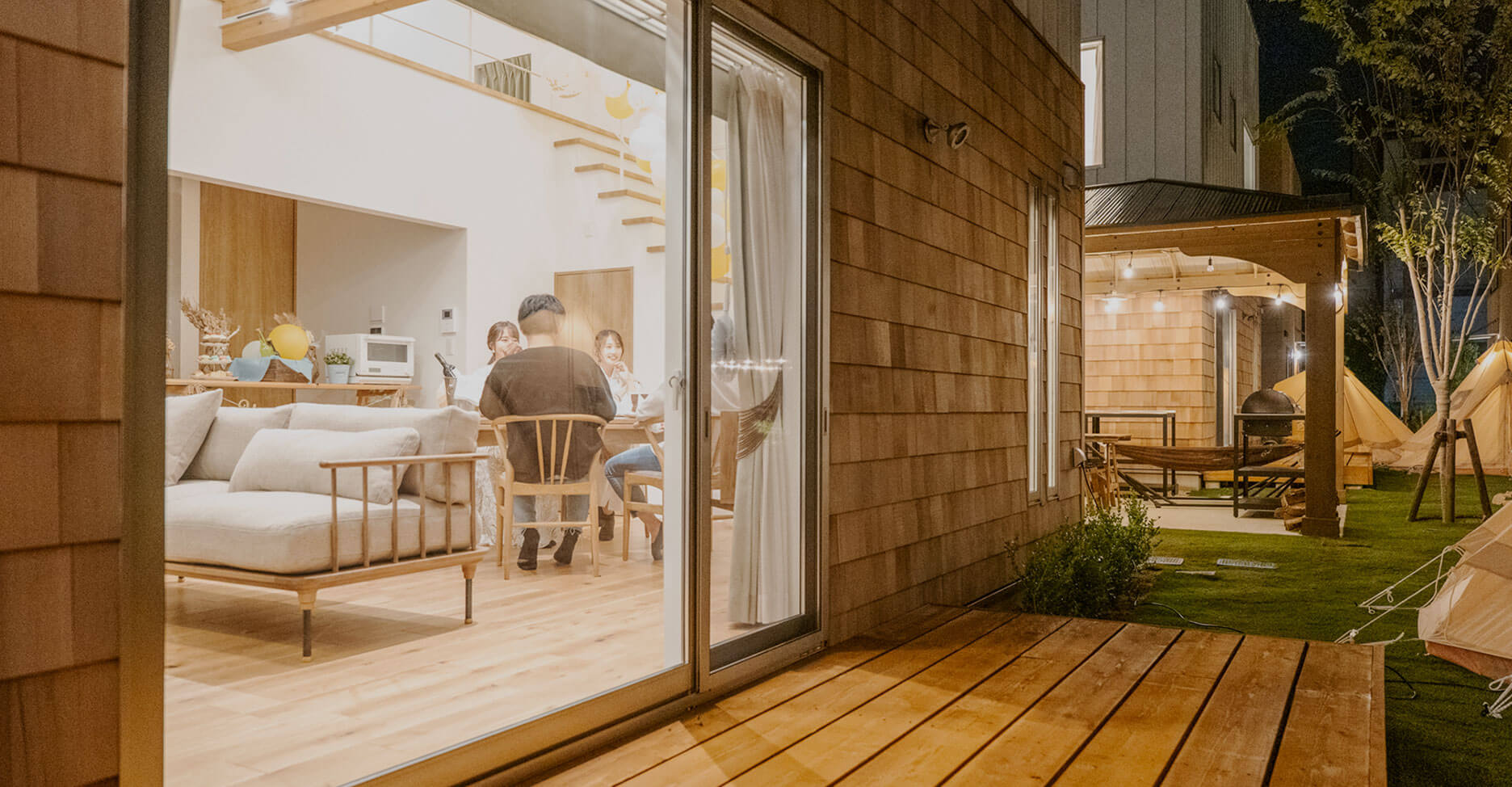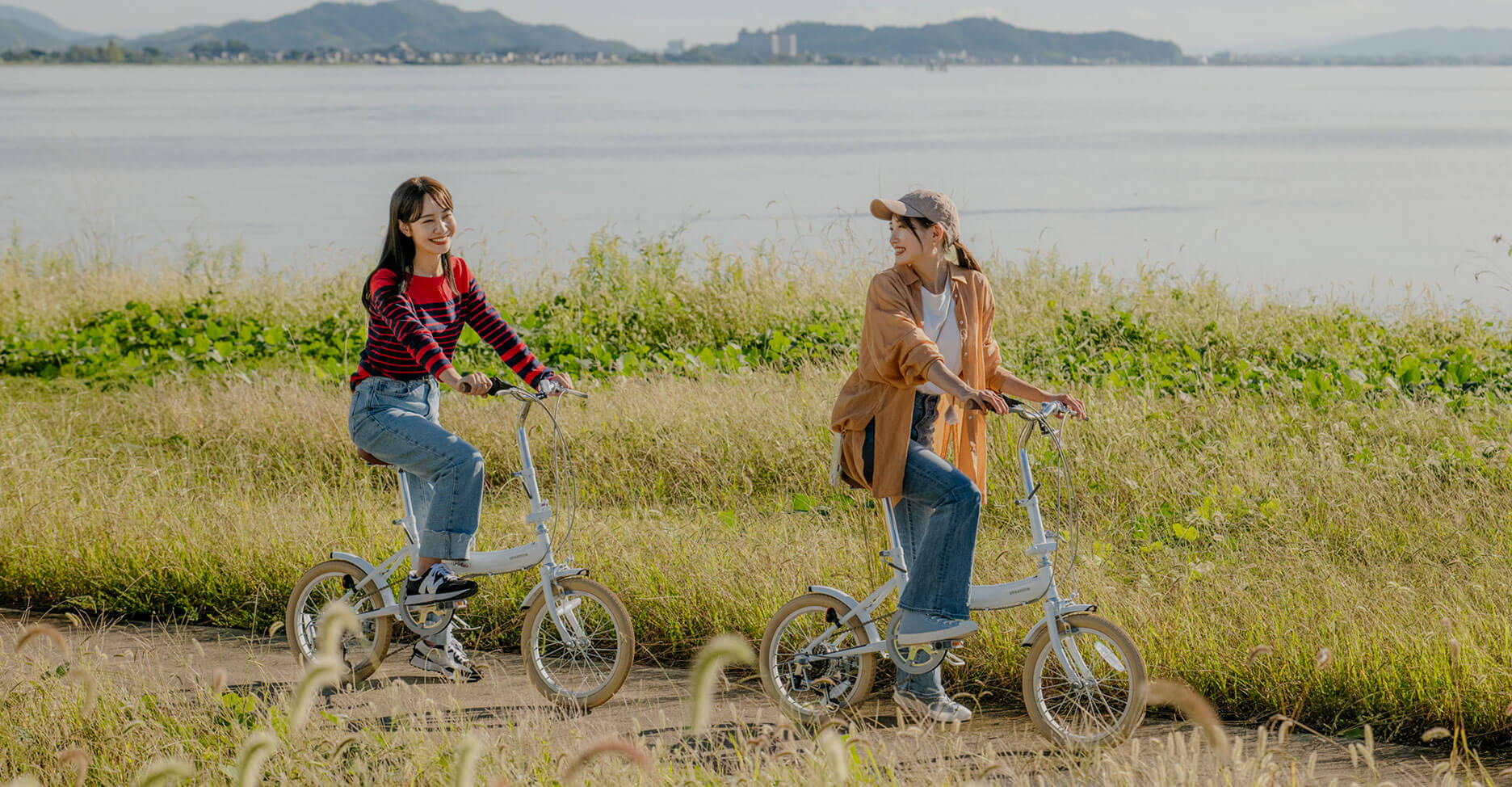 Enjoy a life-enriching experience to
stay in Nagahama, Shiga -
where history and nature meet.
Located within reach of major cities
including Tokyo, Nagoya, and Osaka,
Nagahama City in Shiga Prefecture is
a charming place where history and nature join. The townscape of a town
that flourished as a castle town,
historic sites, and the magnificent nature of
Lake Biwa and other mountains and
lakes will add a nice touch to your trip. Relax in your own private villa,
savor some delicious meals,
and enjoy experiences in Nagahama through various activities and walk around town. We hope that your stay
at NAGAHAMA Lifestyle Glamping Hotel
will be a memorable and wonderful time.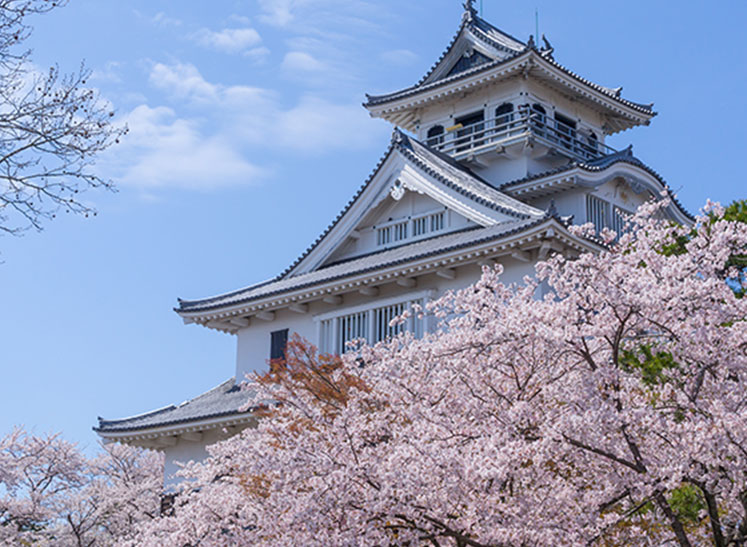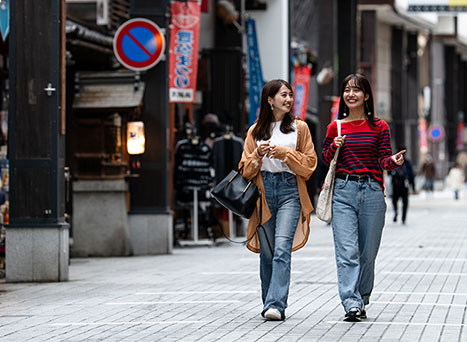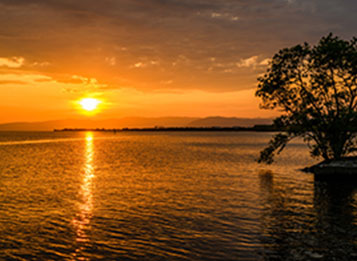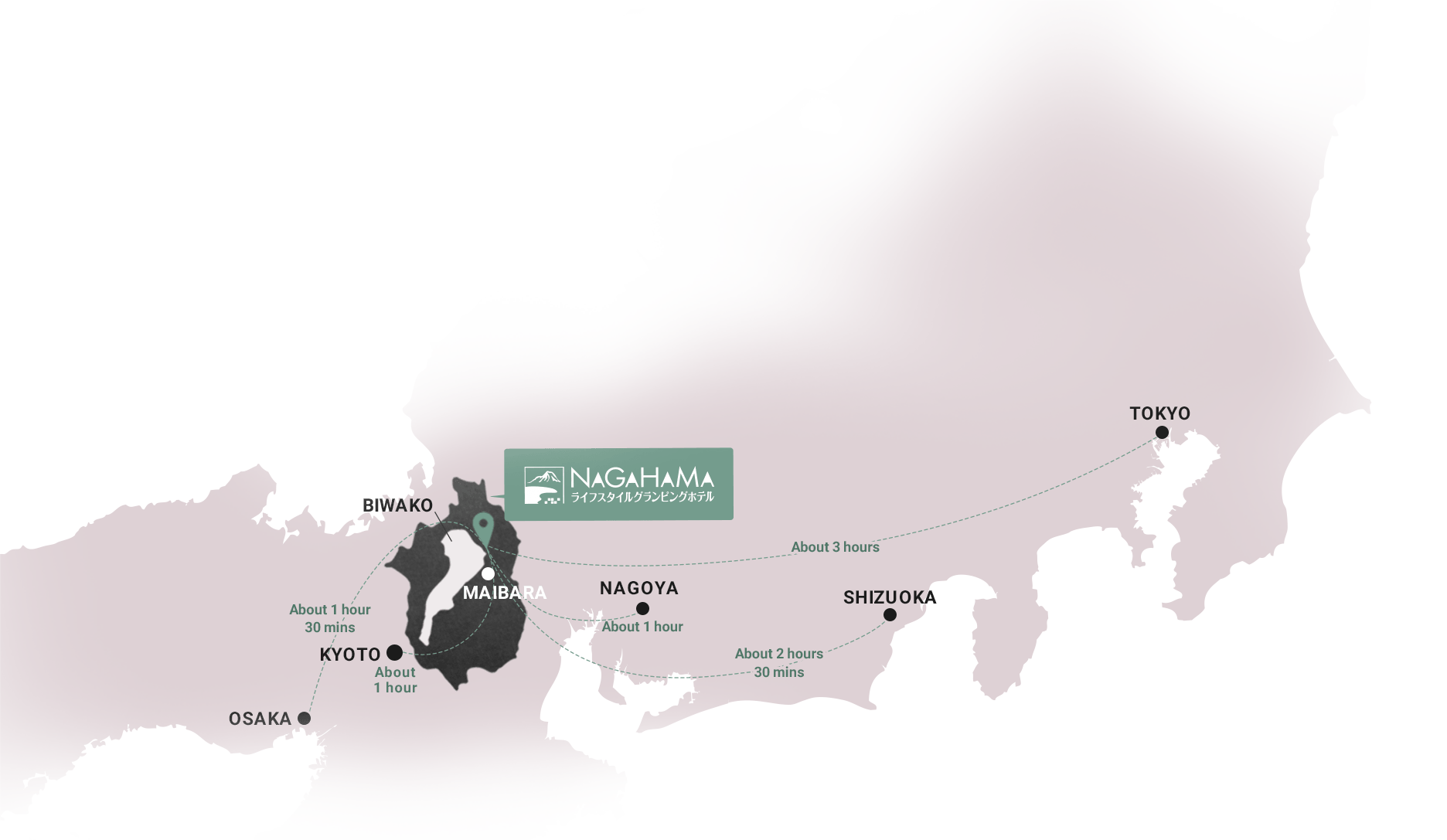 VILLA
A private villa to enjoy your
stay with your loved ones
A luxurious glamping hotel
where you can enjoy your own private space
as if you were visiting a vacation home.
A total of six villas will welcome you,
designed to accommodate your lifestyle
so you can relax at ease.
VILLA MAP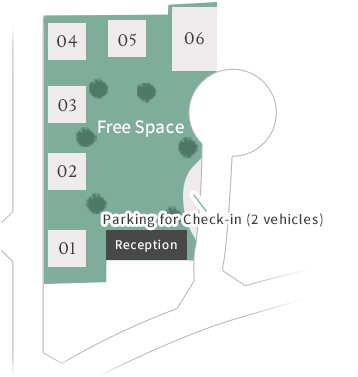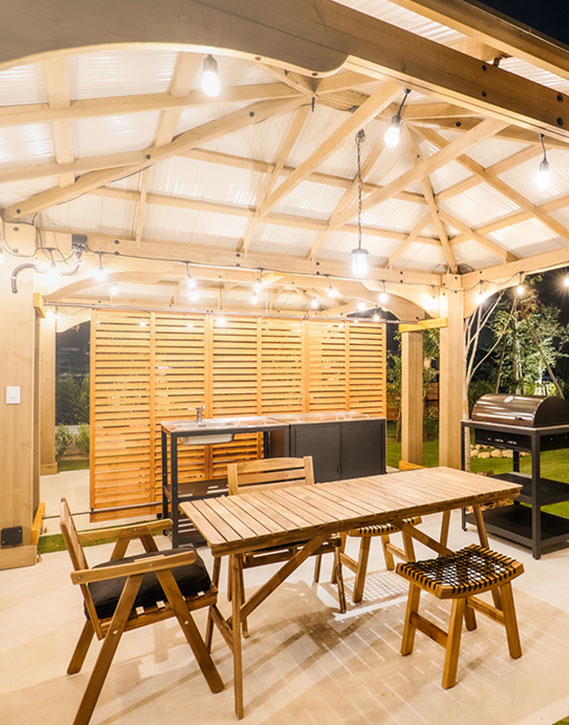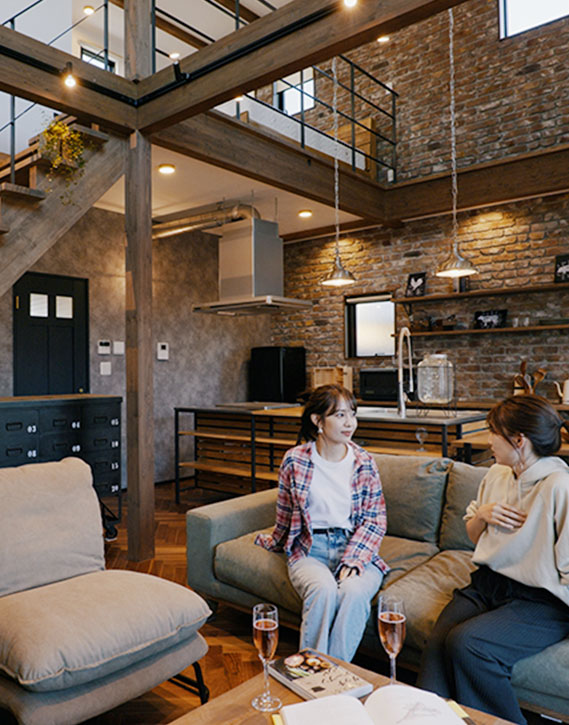 Villa Features SPECIAL FEATURE
Outdoor Terrace
If you have your favorite lantern or camping gear, you can bring along with you to enjoy.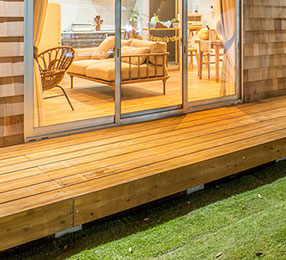 Glamping Experience
Lovely tents and gazebos have already been set up. So you can enjoy camping and bonfires without the hassle.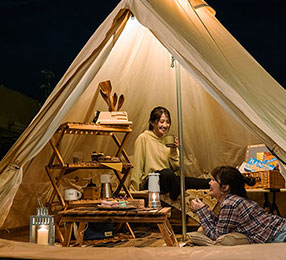 All-Suite Hotel
We are a spacious, all-suite hotel with a living room directly connected to a green garden and open atrium.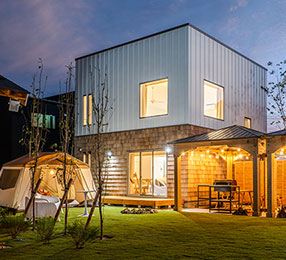 Bonfire Experience
A relaxing time to talk while gazing at the flames that light up throughout the four seasons. We will support you from chopping firewood to starting a fire.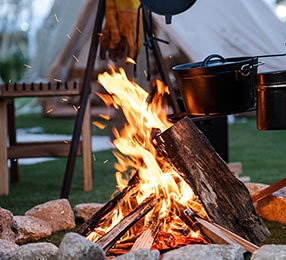 Indoor and Outdoor Kitchens
Kitchens are available both indoors and outdoors. You can try the professional chef's BBQ cooking experience.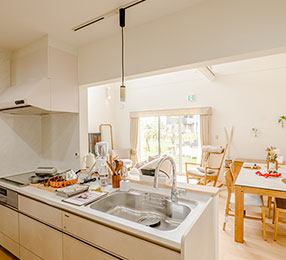 ヴィラの種類
VILLA TYPE
A total of 6 villas with unique themes for each building
STYLE07
The King's Camp
A special plan to set up in the nature of Lake Biwa with a land cruiser with gear such as a glamping tent and a trailer that can available up to 4 people.
Enjoy the airstream around Lake Biwa Create a dream luxury camp.
Travel in a private car with a chef.
Reservations are required,so please inquire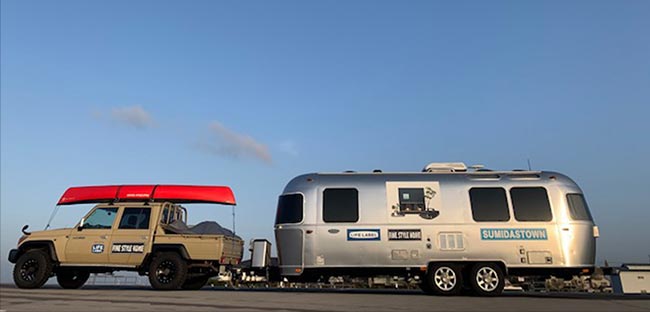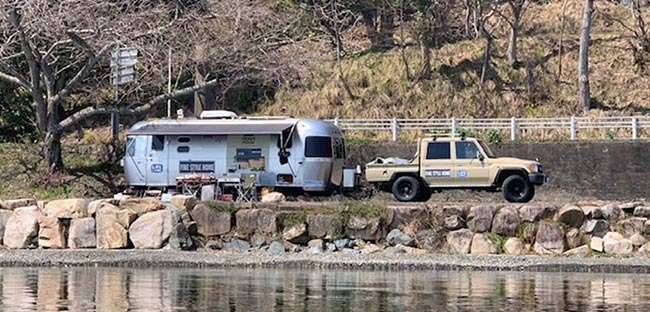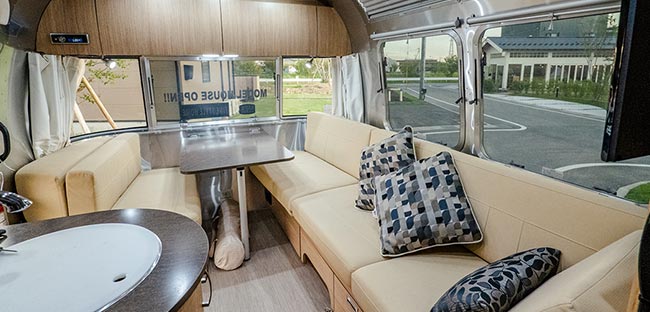 FOOD
BBQ menu, carefully selected by the chef
The essential part of a glamorous and luxurious camping is authentic gourmet food.
Authentic gourmet food is indispensable for realizing a glamorous and luxurious CAMP.
A French cuisine chef who is a glamping master offers a dynamic BBQ gourmet with a focus on ingredients from Omi.
We will provide it with the chef's performance.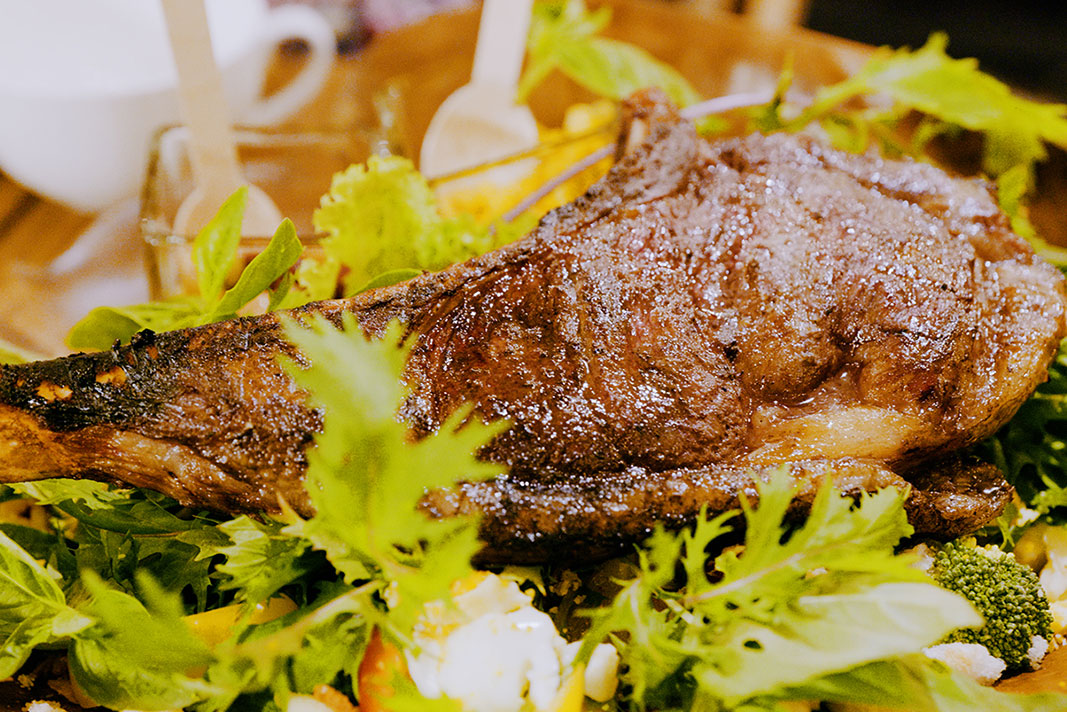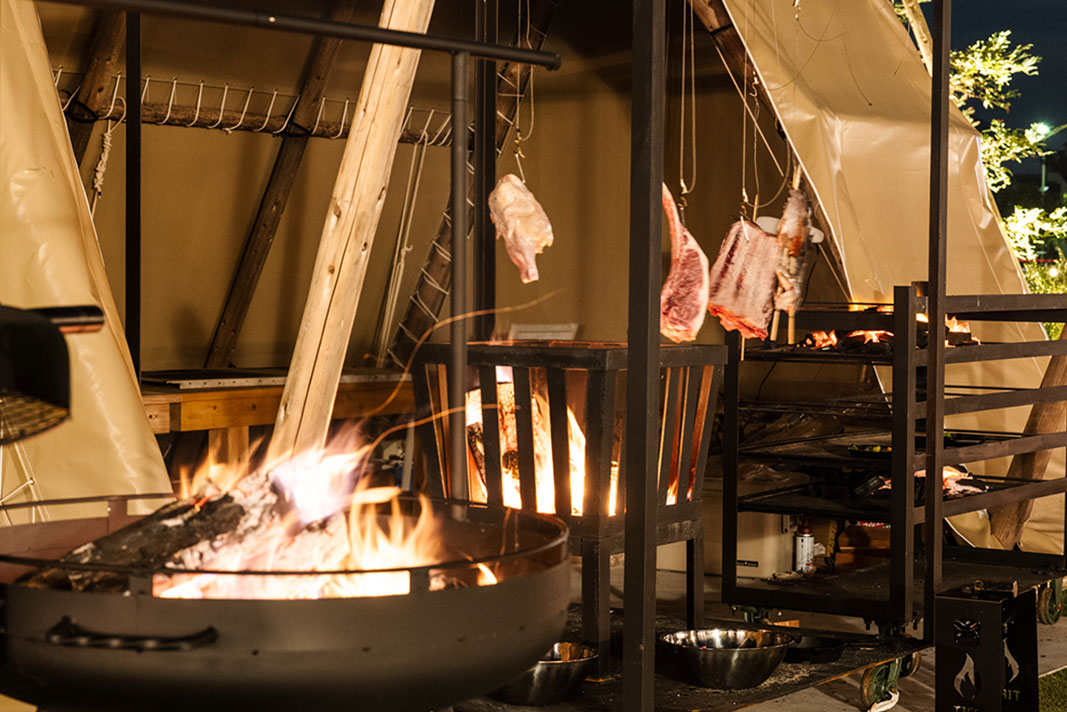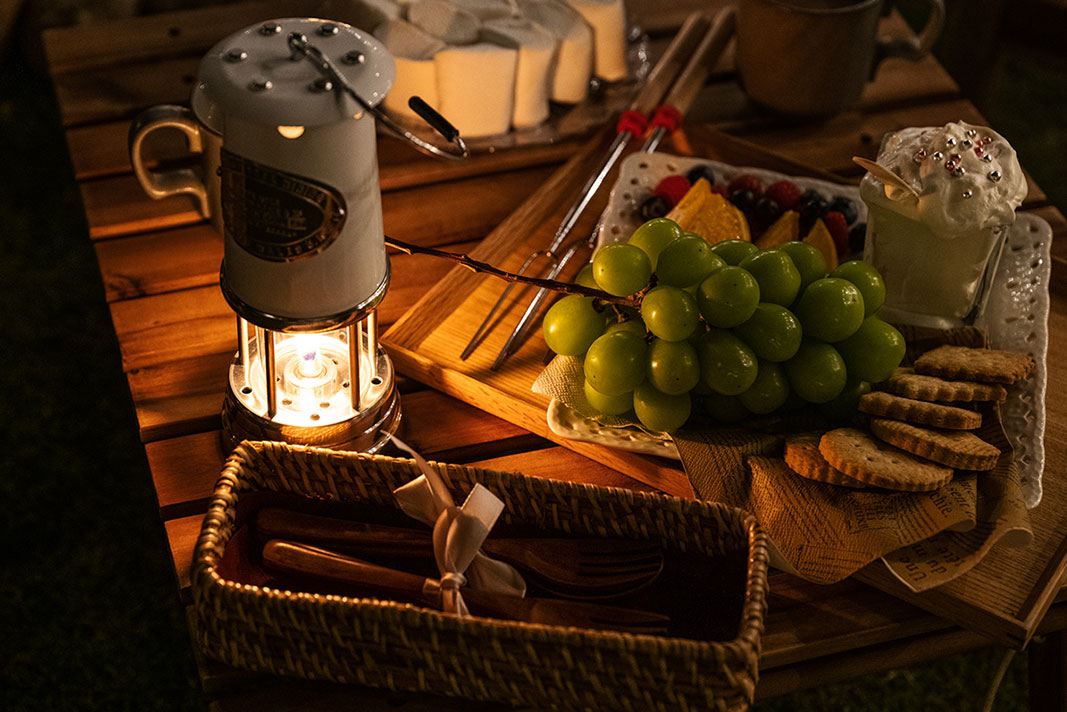 A short walk along the promenade
in front of the house takes you to
Lake Biwa with its magnificent scenery.
The colorful morning sunrise and evening sunset views of
Lake Biwa are just spectacular.



playinLakeBiwa ACTIVITY
We offer a variety of activities such as SUP and canoeing on Lake Biwa,
which allow you to paddle smoothly through the lake, and bass fishing where you might be able to get a bite from a big largemouth bass.
Enjoy an unusual and special experience in Nagahama, a city full of charm.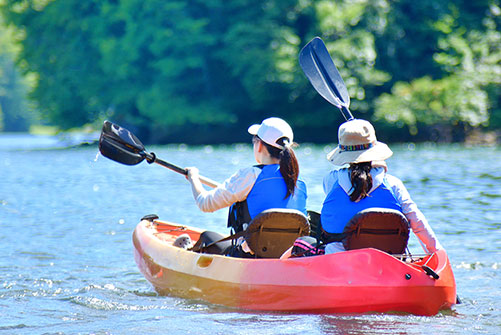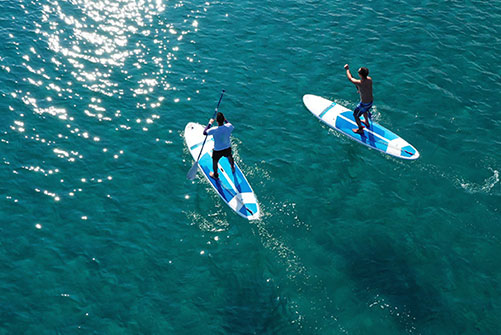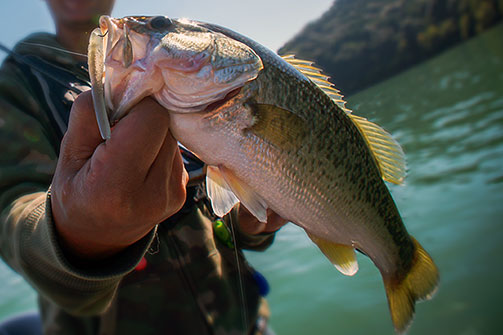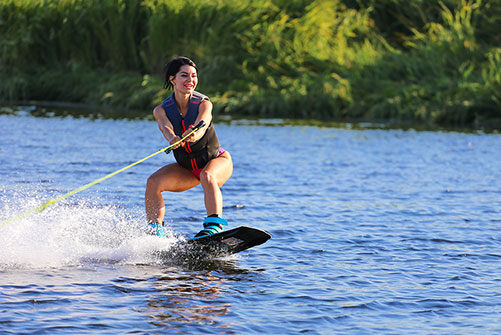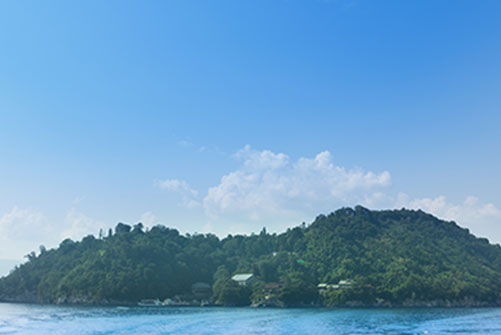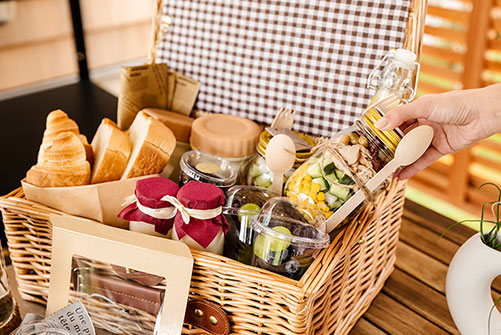 ACCESS
NAGAHAMA Lifestyle Glamping Hotel is located in Nagahama City,
Shiga Prefecture, which is easily accessible from major cities.
Free shuttle service is available from Nagahama Station, so you can come by train. (Reservations required)
Address
379-6 Shimosakahama-cho, Nagahama-shi, Shiga
526-0047 JAPAN
Nearest Station
About 5 min from Nagahama Station by taxi
TEL
+81-749-53-2270